Last week's global cyber attack saw 150 countries affected by the malicious software, ransomware.
The software aptly named 'Wanna Cry' locked over 61 institutions in the NHS, and is said to have already gained the hackers the equivalent of £22,000 from the demands.
Although the NHS succumbed particularly to the attack, The National Cyber Security Centre has advised all firms to vigilant towards potential malware threats, stating more cases 'may come to light' this week.
Hospitals and health institutions are among firms that contain 'time sensitive' data, making them an ideal target. With companies forcing to resort to pen and paper, appointments and treatments were widely disrupted last week, with a backlog of disruption set to continue into the week for NHS patients.
Like many other malicious programs, 'Wanna Cry' targeted vulnerable machines running on Windows operating systems. With the ability to move around network systems by itself in the form known as a 'worm' virus, the powerful malware does not rely on humans manually clicking on attachments and can harbour an attack without any action from the user.
Microsoft recently issued a free patch for the weakness that has been exploited by the ransomware. 'Wanna Cry' is reported to have been built to exploit a bug found by the USNational Security Agency.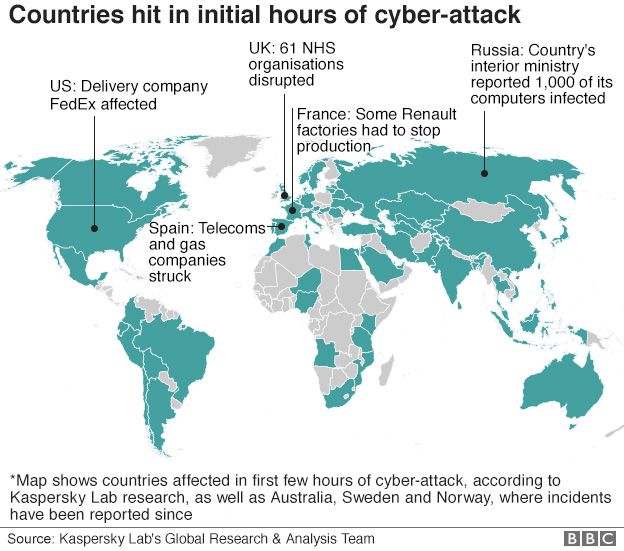 How To Stay Protected
The attack has raised many important questions regarding the security of our IT systems and the risk that more firms and even individuals may be facing. With ransomware being one of the most immediately damaging forms of cyber-attack, organisations are advised to keep security software patches up to date and rely on trusted sources of IT security.
Basic security software and vigilance lie as the core to stay protected.
Regular updates and installations of firewalls and anti-virus software are vital to ensure maximum protection against ransomware instances.
Being vigilant regarding what links and attachments are opened and clicked on is also a simple but needed approach. Regularly backing up data to decrease the chance of file and data loss in the result of an instance will also save your company losing sensitive information.
In January earlier this year Edge IT warned of the increased spreading of ransomware, reporting what it is and how it works.
Edge are experts in IT security and know how to help companies stay protected against cyber-attacks. Ensuring your IT security is up to scratch with reliable systems and protections in place is the start to ensuring protection against the loss of valuable data your business may store.
The UK's National Cyber Security Centre website contains advice on how to apply the patch to stop the ransomware – MS17-010 – and what to do if you can't. Alternatively, speak to us today for advice and help regarding cyber security concerns and our team will be happy to help.